How Tom Cruise Survived Mission: Impossible 7's Jaw-Dropping Motorcycle Stunt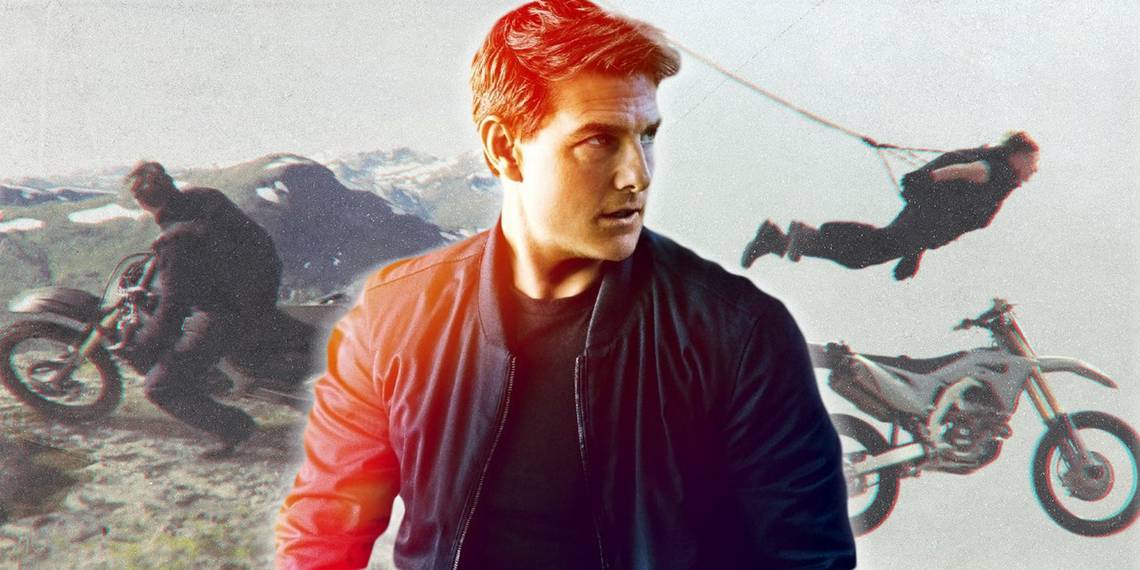 Tom Cruise, an expert at pulling off dangerous stunts, provides an overview of the upcoming Mission: Impossible — Dead Reckoning Part One's most insane set piece.
Appearing on Jimmy Kimmel Live!, Cruise broke down how he and Dead Reckoning's crew achieved a motorcycle jump off a mountainside ramp that transitions into him opening a parachute in freefall. "That was the first time I did it," he said over footage of the stunt's production. "When I let go, you have to make sure that I'm not attached to the bike in any way. Even my shoelaces are taped, and you let go and you start flying, and I have about six seconds to open that parachute before I hit the ground." When Kimmel questioned whether Cruise counted to six in his head, the Mission: Impossible star confessed that it was closer to eight seconds.
Tom Cruise's Mission: Impossible 7 Stunts
Cruise also showed Kimmel footage in which he does warmups before jumping and parachuting out of a helicopter eight times. He notably addresses why he enjoys performing stunts in films like the Mission Impossible franchise. "I just try to do everything I can, use every tool that I have, to entertain the audience," he continued. "So, even as a little kid, like, I used to steal lumber from, uh, junkyard, or you know, and then I'd ride down the hill as fast as I could and hit the ramp and go over garbage cans." The star admitted the bike trick didn't work, stating, "I went through it, and I split the wood in half and I went smashing through the garbage cans, and then spent the next few days in the hospital."
Paramount released footage of the Dead Reckoning motorcycle stunt's shoot in December, featuring commentary from Cruise and director Christopher McQuarrie. The seventh Mission: Impossible and its upcoming 2024 sequel, Dead Reckoning Part Two, marks Cruise's fourth and fifth directorial collaborations with the director after 2012's Jack Reacher adaptation and the Mission: Impossible sequels Rogue Nation and Fallout. McQuarrie also wrote the screenplays for multiple Cruise-led films like Edge of Tomorrow and Top Gun: Maverick, the latter of which is currently nominated for six Oscars.
Mission: Impossible – Dead Reckoning Part One Cast
Mission: Impossible — Dead Reckoning Part One's first trailer dropped last May, teasing Ethan Hunt's (Cruise) newest mission and death-defying action scenes. Alongside a returning Ving Rhames, Simon Pegg, Rebecca Ferguson and Vanessa Kirby, Dead Reckoning will star Haley Atwell, Esai Morales and Pom Klementieff in supporting roles. Also joining the movie is Henry Czerny, who starred opposite Cruise in the original 1996 Mission: Impossible movie.
Mission: Impossible - Dead Reckoning Part One hits theaters on July 14.
Source: Jimmy Kimmel Live! via YouTube