Watch: Marvel's Groot Gets His Own Disney+ Show In New Trailer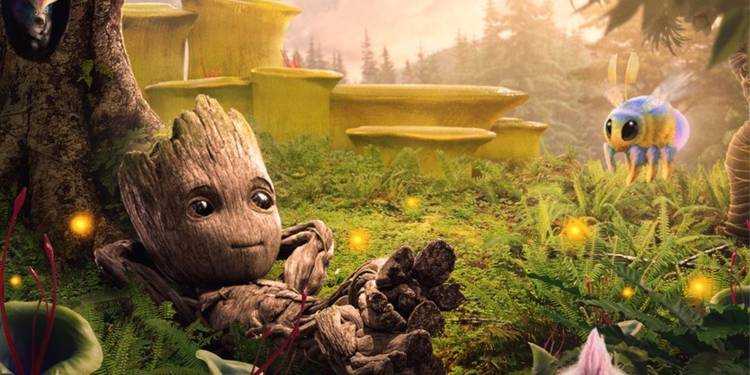 Marvel Studios has released an official trailer for I Am Groot, the upcoming series of animated shorts set to drop on Disney+ in August.
Consisting of five shorts, I Am Groot is slated to premiere on Disney+ on Wednesday, Aug. 10. The trailer, released during San Diego Comic-Con 2022, offers a glimpse at the various antics Baby Groot will get up to in the series, including becoming a god-like figure to a race of tiny, adorable aliens; putting his (apparent) knowledge of explosives to use; and more.
Marvel Studios' I Am Groot was initially announced for Disney+ during The Walt Disney Company's Investor Day in December 2020, with Variety later describing the project as a series of "'photo-real' animated shorts centered on Baby Groot." Given the fact that these shorts specifically focus on Baby Groot, I Am Groot would ostensibly take place between the events of 2014's Guardians of the Galaxy and 2017's Guardians of the Galaxy Vol. 2, or thereabouts. However, Guardians series director James Gunn has implied that I Am Groot may not be canon to the main Marvel Cinematic Universe. "They're canon to themselves, I'd think," Gunn said of the shorts.
Groot Has Had Quite the Journey in the MCU
Created by Stan Lee, Larry Lieber and Jack Kirby, the original version of Groot first appeared in 1960's Tales to Astonish #13. A different version of Groot would later factor into Marvel Comics' Annihilation: Conquest crossover, subsequently joining the 2008 iteration of the Guardians of the Galaxy.
Groot made his live-action debut in Gunn's 2014 MCU film Guardians of the Galaxy, with Vin Diesel providing the character's voice. While Groot sacrificed himself towards the end of the film, he was soon reborn as Baby Groot, who went on to appear in Guardians of the Galaxy Vol. 2. One of the sequel's mid-credit scenes revealed that at some point after the main events of the film, Groot had grown into a teenager.
Teen Groot later appeared in 2018's Avengers: Infinity War, 2019's Avengers: Endgame and, most recently, this year's Thor: Love and Thunder. Audiences will once again see Groot in Gunn's Guardians of the Galaxy Vol. 3, which is currently scheduled to release in theaters on May 5, 2023. In the interim, The Guardians of the Galaxy Holiday Special is expected to premiere on Disney+ this December.
Marvel Studios' I Am Groot premieres on Disney+ on Aug. 10.