The Boys: Why Butcher Chooses [SPOILER] To Kill Him
Billy Butcher's death at the end of The Boys comic book series was committed by one of the last people you'd expect, as Hughie killed his former leader after he was lied to about the death of his own parents. In The Boys #71, Butcher strikes a disturbing smile as Hughie stabs him in the chest, as the Supe-hunter turned villain had nothing left to live for and tricked his former protégé into killing him. The shocking moment was a fitting end for Butcher.
In The Boys comic book series, Billy Butcher leads the titular team as they hunt down Supes, namely The Seven, who are acting as superpowered villains while the public believes them to be heroes. Due to his wife's assault and subsequent death at the hands of Homelander (later revealed to be Black Noir), Butcher made his mission to get revenge for his tragic loss by killing as many Supes as possible. However, by the end of The Boys, Butcher lost control and started murdering members of his own team, leading to a final encounter with Hughie, which ended with him tricking him into killing him.
In The Boys #71 by Garth Ennis, Tony Avina, Russ Braun, Simon Bowland, and Darick Robertson, Butcher's quest to kill every super-powered being on Earth ends with him losing control and shockingly killing Mother's Milk, Frenchie, and The Female. In the following confrontation between Butcher and Hughie, the pair are seriously injured after falling off the Empire State Building. Talking about his late wife, Butcher shares details about his past and tells Hughie never to let go of Starlight as he doesn't know how much time he'll have left with her. As Hughie prepares to leave a gravely injured Butcher to be captured, he tells him that he secretly killed both of his parents, leading Hughie to stab him in the chest and kill him.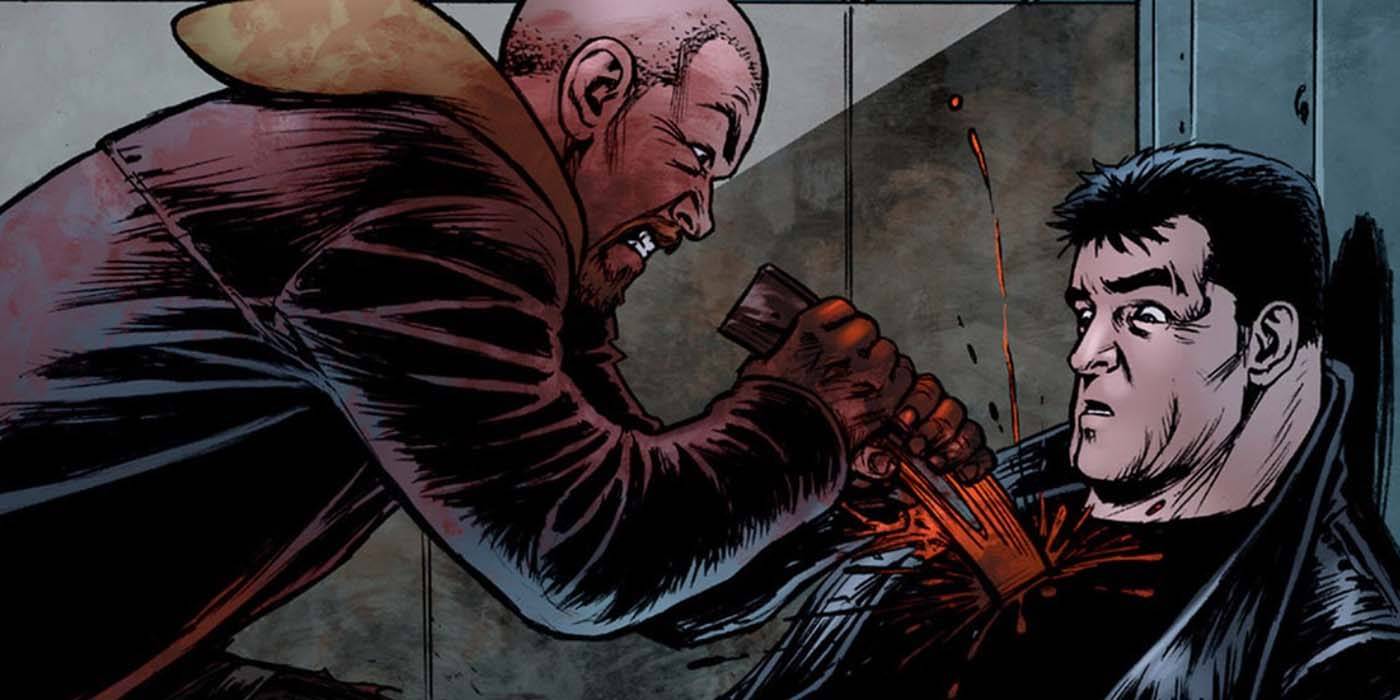 Ultimately, Butcher chose Hughie to kill him as a sort of sick way to show how much working alongside him with The Boys had changed him. The fact that Butcher dies with a smile as he lies about killing Hughie's parents further illustrates that he knew his mission was over and that turning the most innocent member of The Boys into the man responsible for his death would represent one last hurrah. Butcher had nothing left to live for, giving Hughie a final traumatizing experience he would never forget. It's a fittingly awful sendoff for Butcher and shows the power he wielded over Hughie until the end.
Butcher's death featured him going out in a blaze of glory, wiping out The Boys, and having Hughie kill him with a twisted lie. For the Supe-killer, he likely planned his own demise from when he added Hughie to his team. Butcher ended up being the series' biggest villain, controlled his surroundings until the very end, and by choosing Hughie to end his life, it was one final twist of the metaphorical knife into the man whose life he forever changed in The Boys comic book series.