Thor: Love and Thunder Concept Art Offers a Look at Grandmaster's Cut Return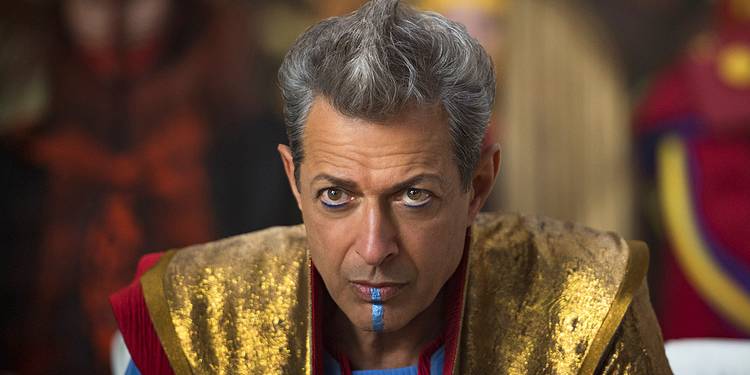 Thor: Love and Thunder concept art now shows that Jeff Goldblum was originally set to reprise his role as the Grandmaster but didn't the final cut of the film.
In a recent Instagram post, Marvel Studios illustrator Laurent Ben-Mimoun showed off a piece depicting the Grandmaster in a broken-down spaceship similar to the ones on Sakaar in the previous film Thor: Ragnarok. He is shown standing next to an unknown masked figure making ship repairs and the decapitated head of Korg, implying that this scene would have taken place after Thor, Jane, Valkyrie, and Korg battled the gods of Omnipotence City. While the Grandmaster is wearing the same lavish robes from Ragnarok, he seems unhappy about the current dilapidated state of the ship. Intriguingly enough, observant fans have pointed out that the character's arms mysteriously appear to be robotic.
The caption of the post reads "Moon of shame," implying some relation to the scene in which Gorr the God Butcher attacks Thor, Jane, and Valkryie in his shadow realm. It is unclear what the connection between Gorr and the Grandmaster is, but the Grandmaster does have deity-adjacent status as an Elder of the Universe and could qualify as a god by Gorr's definition. Yet, Marvel reportedly mandated that the movie had to be only two hours long, so any potential Grandmaster subplots would have been cut for time.
A famously convoluted figure in the comics, The Grandmaster is an eccentric cosmic ruler of the exotic planet Sakaar. However, his political power is lost in a dramatic fashion by the climax of Thor: Ragnarok. In one of the film's post-credits scenes, he unsuccessfully attempts to appease a mob of his angry citizens who have just revolted against him. Pertinent to that scene, director Taika Waititi explained that the character was originally supposed to stow away on Thor's ship.
In a roundabout, Goldblum-esque answer, the actor confirmed that the Grandmaster would not be appearing in Thor: Love and Thunder prior to its release. Yet, the first episode of the new Disney+ series She-Hulk: Attorney at Law saw the return of the Grandmaster's "personal ship" and even teased a possible return for the Grandmaster and Sakaar in future projects. After all, he still has the host of champions teased in Ragnarok (like fan-favorite Beta-Ray Bill) that could also return in any of the cosmic Marvel Cinematic Universe ventures, which would be an easy way to reintroduce Goldblum into the MCU.
Thor: Love and Thunder is expected to start streaming on Disney+ sometime soon.