Will Marvel's Eternals 2 Be Announced At D23?
With new announcements expected from Marvel Studios at D23, many are wondering whether Eternals 2 will fill one of the eight empty slots in Phase 6. So far, only Fantastic Four, Avengers: The Kang Dynasty, and Avengers: Secret Wars have been announced for Phase 6, and while these came as welcome surprises at 2022's San Diego Comic Con, there has been a huge amount of speculation about what upcoming projects will fill in the gaps. Since its release in November 2021, anything relating to Eternals has been strangely absent from the MCU, but that may be about to change.
Taking place from September 9 to 11, 2022's D23 Expo will see many new announcements from the world of Disney. Marvel Studios' presence at the event is highly anticipated by MCU fans, especially after some surprise confirmations of release dates and new projects for the MCU at Comic-Con. However, there were some notable absences from the Comic-Con reveals that have left viewers wondering where some rumored projects will fit into the MCU's future, including the likes of Spider-Man 4, Shang-Chi 2, and Eternals 2, so there is a possibility that these titles might make an appearance at the D23 Expo.
Eternals' cliffhanger ending stirred up immediate speculation of a sequel, and when nothing was revealed about a potential Eternals 2 at Comic-Con, the focus shifted to the upcoming D23 Expo. Eternals introduced many new characters and a world-changing narrative to the MCU that hasn't been mentioned since, so it would stand to reason that a sequel will be announced at D23. The Eternals' futures in the MCU are uncertain, but with two major Avengers films coming in 2025, they must be making their return soon.
Eternals 2 Has To Happen Soon (Or The Post-Credits Looks Bad)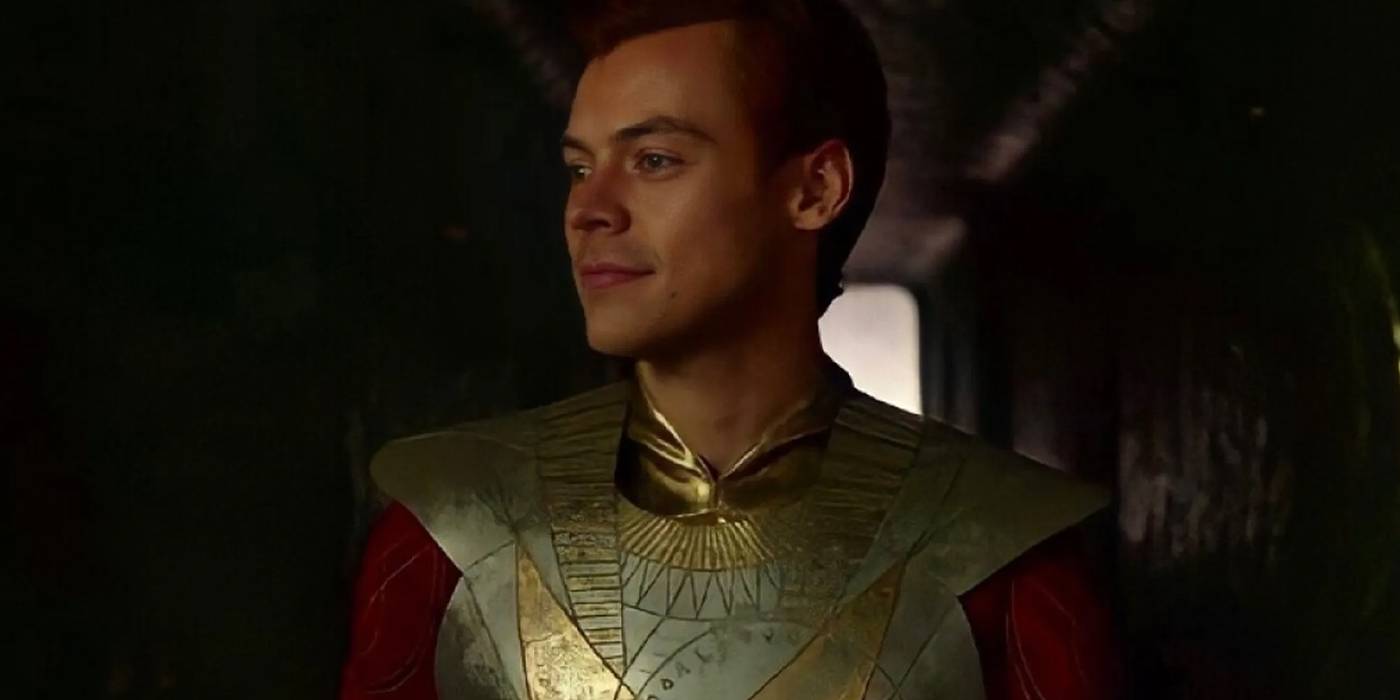 The post-credits scene of Eternals featured the debut of Patton Oswalt as Pip the Troll and Harry Styles as Eros, the much more attractive brother of Thanos. These introductions garnered a huge response from audiences and seemed to set up something big happening in the Eternals' future, but there is yet to be a pay-off for this cliffhanger ending. It would be great for Marvel Studios to give audiences some insight into the future of these characters at D23.
After the Celestial Arishem took Sersi (Gemma Chan), Kingo (Kumail Nanjiani), and Phastos (Brian Tyree Henry) from the Earth in the final moments of Eternals, the remaining members of the team, Thena (Angelina Jolie), Makkari (Lauren Ridloff), and Druig (Barry Keoghan), began a search of the cosmos for their missing kin, joined by Pip and Eros on board the Domo. With this seemingly being the start of their journey together, it seems strange that their mission would be put on hold for years while other MCU projects are released. The only way this could work is if Eternals took the same approach as Guardians of the Galaxy, with Guardians of the Galaxy Vol. 2 taking place a few months after the first film instead of the three-year release date gap.
An announcement of Eternals 2 at D23 would help to cement the grand narrative woven in Eternals further into the MCU and validate that surprising post-credits scene. With Avengers: The Kang Dynasty and Avengers: Secret Wars coming up at the close of the Multiverse Saga, Eternals 2 would be the perfect candidate to fill one of the eight gaps left in Phase 6. Luckily, thanks to the D23 Expo, MCU viewers hopefully won't have to wait long for some new announcements.