Deadpool Joins Avengers Campus in a Blink-and-You'll-Miss-It Cameo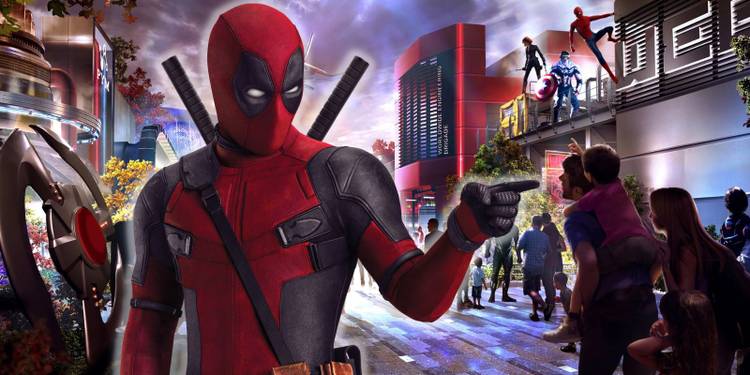 Avengers Campus in Disneyland Paris hides a sneaky reference to Wade Wilson aka Deadpool.
As pointed out by Insider journalist Kirsten Acuna during a media preview event, one of the park's latest attractions acknowledges the existence of the Merc with the Mouth. During the Avengers Assemble: Flight Force event, the ride's plot sees Tony Stark discovering the existence of a Kree missile hurtling towards Earth and scrolls through his list of superhero contacts to determine who could assist with the problem. A card for Deadpool, which includes his real name and logo, briefly appears under the "Do Not Contact" section alongside other roguish Marvel characters such as Yondu, Nebula, Crossbones and Sonny Burch. It's currently unknown whether Disney has any plans to include Wade Wilson in its Avengers Campus experience.
While Deadpool himself doesn't make an appearance in the theme park video, various Marvel Cinematic Universe characters do briefly feature when Iron Man asks them for help. These heroes include Rocket Raccoon, Ms. Marvel, Ant-Man and Sam Wilson, sporting the new Captain America costume he donned in The Falcon and the Winter Soldier. Despite their hasty responses, each character is unable to lend a hand in stopping the Kree's weapon and they're otherwise occupied with their own problems.
Avengers Campus is a theme-park location based on the ever-growing MCU. There are currently two areas dedicated to allowing Marvel fans to walk amongst their favorite comic book and film characters, with the first being established at Disney California Adventure in 2021 while the Disneyland Paris version opens on July 20, 2022. The parks are known to keep up with recent MCU releases, featuring appearances by iconic characters such as America Chavez, President Loki and both Moon Knight and Mr. Knight.
While Avengers Campus is largely inspired by the characters and actors that feature in the MCU, many fans were initially puzzled by the parks' placement in the sprawling canon of the on-screen superhero world. Dan Fields, executive creative director of Disney Parks Live Entertainment, explained that while the links and inspiration are apparent, the MCU is set in a different universe to the theme park. "This campus exists in the real world, and therefore, those heroes are here and keep an eye on us, keep us all safe. There's no apocalyptic snap happening in this campus," Fields said.
Disneyland Paris' Avengers Campus opens on July 20.