Who Plays Young Six In The Gray Man (The Boys Connection Explained)
The actor who plays young Sierra Six in The Gray Man's flashbacks is already playing one of the most notable child roles on TV. Netflix's The Gray Man is adapted from the 2009 book of the same name by Mark Greaney, following Sierra Six, a CIA mercenary who uncovers dark secrets about the agency while on a mission. Starring Ryan Gosling as Six, Ana de Armas as his CIA ally Agent Miranda, Regé-Jean Page as the antagonistic Denny Carmichael, and Chris Evans as the rogue mercenary Lloyd Hansen, The Gray Man continues Netflix's trend of placing A-list stars in big-budget action thrillers.
As The Gray Man uncovers how Ryan Gosling's character became the ruthless agent Sierra Six, the Russo brothers' movie cuts to his past with quick flashbacks. The Gray Man reveals that Sierra Six, whose real name is Courtland Gentry, was physically and emotionally abused by his father as a child, whose "unsound" methods of making him and his brother "macho" included drowning him in bathtubs and burning him with cigarettes. The flashbacks eventually uncover that young Six landed himself in prison at 15 years old when he shot and killed his father in order to stop him from murdering his brother.
While The Gray Man's flashbacks only make up a small portion of Court Gentry's depicted story, young Six is portrayed by a significant up-and-coming child actor. His face is largely hidden in the flashbacks, but it's clear that The Gray Man's young Six is played by Cameron Crovetti, who is best known for playing Ryan Butcher on Amazon Prime's The Boys. As the son of the villainous superhero Homelander and Billy Butcher's wife, Ryan plays an incredibly important role in The Boys, with Cameron Crovetti having to increasingly show his acting chops as his father influences his moral decay. The Gray Man's Cameron Crovetti also starred in HBO's Big Little Lies as Josh Wright alongside his twin brother, where his character was once again the son of a sociopathic father.
The Gray Man Proves How Incredible Ryan's The Boys Season 4 Story Will Be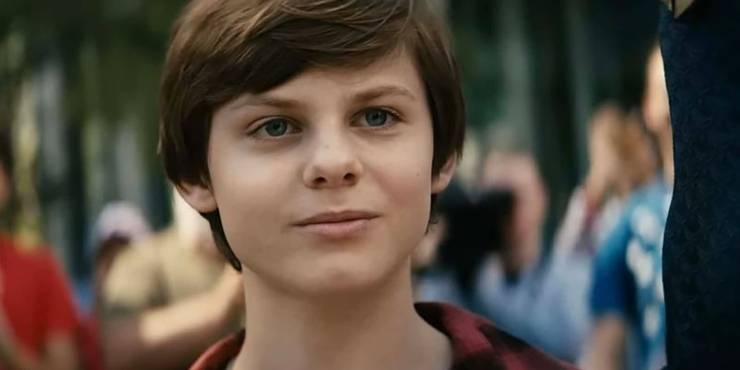 The biggest roles of 14-year-old Cameron Crovetti have seen him portray sons who must overcome the immorality of their fathers, with his portrayal of young Six being an apt precursor to his character Ryan's arc in The Boys season 4. Crovetti's young Six is trained by his father to lose any sense of morality as he preaches being physically strong with no sense of emotional attachment, which are the same lessons that Homelander tries to teach Ryan in The Boys. The sinister ending of The Boys season 3 sees Ryan smiling after Homelander is greeted by a cheering crowd when sadistically murdering a critic, suggesting his moral decay is already setting in.
Crovetti's role in The Gray Man has already proven that he can portray a young teen being abused by his father, whose "methods" end up still turning him into a killing machine. Homelander's way of raising Ryan will seemingly produce similar results, with Ryan also perhaps being the only way to truly kill Homelander. It's hinted that Ryan could become evil in The Boys season 4, but the more likely scenario is that Homelander's abuse will eventually turn his son against him, seeing a transition similar to Six in The Gray Man. Like Six's skills with a gun and his fists making him useful for the corrupt CIA, Ryan's superpowers make him a weapon for the government and Vaught, but this likely won't become fully realized until he kills his father. Even if the stories end up diverging, Crovetti's The Gray Man role perfectly sets up the core conflict that Ryan will face in The Boys season 4.