Across the Spider-Verse Merch Reveals New Spider-Man Character Details
New merchandise from Spider-Man: Across The Spider-Verse reveals character and story details for the sequel. Spider-Man: Across The Spider-Verse is the sequel to the animated hit Spider-Man: Into The Spider-Verse, which introduced Miles Morales' Spider-Man (voiced by Shamiek Moore) as he must contend with an opening of the Spider-Verse, which brings several Spider-People from all different dimensions into his world. One of those Spider-People is Spider-Man/Peter B. Parker (voiced by Jake Johnson), who becomes a mentor to Morales, helping him establish himself in his own Spider-Verse, before returning to his own world at the end of the first film.
Spider-Man: Across The Spider-Verse is the first chapter of a two-part sequel, with the third chapter being called Spider-Man: Beyond The Spider-Verse. Both will release in 2023 and 2024, respectively, with both Moore, Johnson, and a massive cast that includes Oscar Isaac (Spider-Man 2099), Hailee Steinfeld (Spider-Gwen), Issa Rae (Jessica Drew), Bryan Tyree Henry (Jefferson Davis), Shea Whigham (George Stacy), Jorma Taccone (Vulture), and Jason Schwartzman (The Spot). Written by Chris Miller and Phil Lord, along with Dave Callaham, both sequels will be directed by Joaquim Dos Santos, Kemp Powers, and Justin K. Thompson.
New merchandise for Spider-Man: Across The Spider-Verse has started hitting shelves in anticipation of the film's release next year (via ComicBook) and features some new character and story details that give a closer look at what the film will involve. On the back of the packaging for one of the new pieces of merch, it reads, "Peter B. Parker is stuck between wanting to protect old pal Miles and siding with his more experienced Spider-Man comrade." This suggests some conflict is coming between Parker, Morales, and likely that of Miguel O'Hara aka Spider-Man 2099. The other piece of packaging reads, "Miguel O'Hara tried to manipulate the genetics of former Spider-People and accidentally turned himself into the best Spider-Man in the Multi-Verse." This reads more like a description for Spider-Man 2099 as a character, as it relates closely to his comic-book origin and seems likely to translate similarly in Across The Spider-Verse.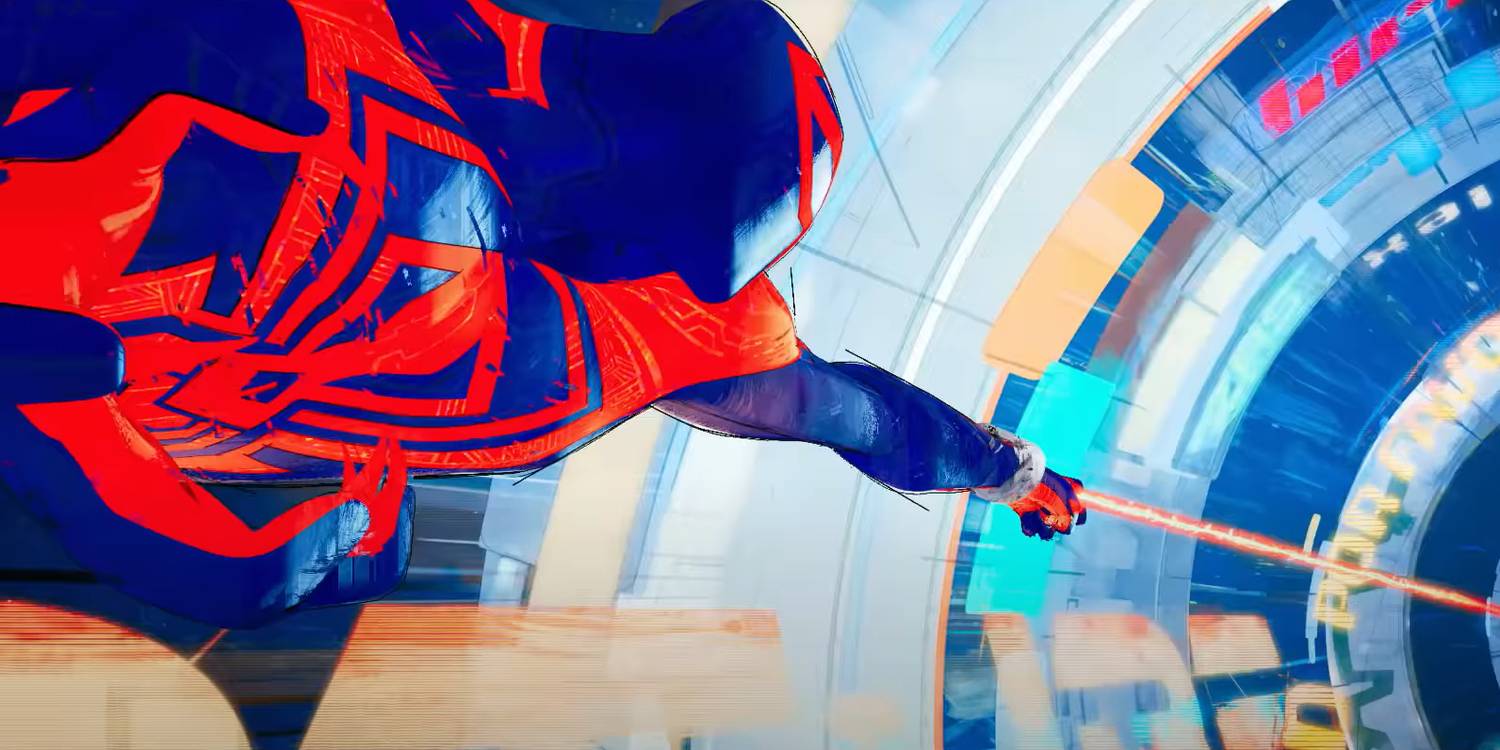 Spider-Man 2099 appeared in the end credits of Spider-Man: Into The Spider-Verse, teasing a much larger role for Across The Spider-Verse, as he appeared to have a firm grasp and understanding of the multi-verse, more so than any other character. The teaser trailers thus far have shown as much, with Spider-Man 2099 featuring prominently throughout, utilizing the "goober" on his wrist, which appears to allow him to jump through the Spider-Verse with ease. Certainly that will play a big role in bringing Miles Morales and Peter B. Parker into the story, but outside The Spot being one of the villains, very little has been officially revealed about the story.
Spider-Man: Across The Spider-Verse is still a year away, so there's plenty of time to speculate on how the film will play out, but each new clue, be it a trailer or merchandise, continues to peel back the layers on what these animated sequels will be about. The first Spider-Man: Into The Spider-Verse was an amazing achievement in animation and for many, it's the best Spider-Man film to date, even more so than the live-action iterations. Having a new conflict between Parker, O'Hara, and Morales should make for a fun dynamic as they venture further into the animated world of Spider-Man: Across The Spider-Verse.