Black Adam Poster Reveals Best Look Yet At Pierce Brosnan's Doctor Fate
Fans of the DCEU are getting their best look yet at Pierce Brosnan's Black Adam character in a brand-new poster highlighting Doctor Fate. The upcoming film follows its titular anti-hero, Teth-Adam/Black Adam, who finds himself freed from imprisonment almost 5,000 years after receiving powers from the Egyptian gods, now seeking to unleash his own form of equity on the world while attracting the attention of the Justice Society of America. The movie is set to be released in theaters on October 21, 2022, and in addition to Johnson and Brosnan, it stars Aldis Hodge, Noah Centineo, Sarah Shahi, Marwan Kenzari, and Quintessa Swindell.
Fans of the comics are likely familiar with Brosnan's character, Kent Nelson, a powerful sorcerer who employs the magical Helmet of Fate, given to him by the ancient entity Nabu, as well as a founding member of the JSA. Throughout his publication history, Nelson/Doctor Fate has dealt with a number of impediments surrounding Nabu's eventual attempts to assume control of his body and has appeared as a mentor to several other popular heroes. When recently discussing his involvement with Black Adam, Brosnan touched on just how formidable Doctor Fate is, revealing he has the power to see the future, resurrect the dead, and teleport.
Now, Johnson, who has actively been promoting Black Adam across social media since production began over a year ago, has taken to Twitter to reveal Doctor Fate's first official character poster. Quoting Kent Nelson, the actor wrote, "Fate does not make mistakes," before acknowledging Brosnan in the role. Check out the brand-new poster spotlighting Doctor Fate below: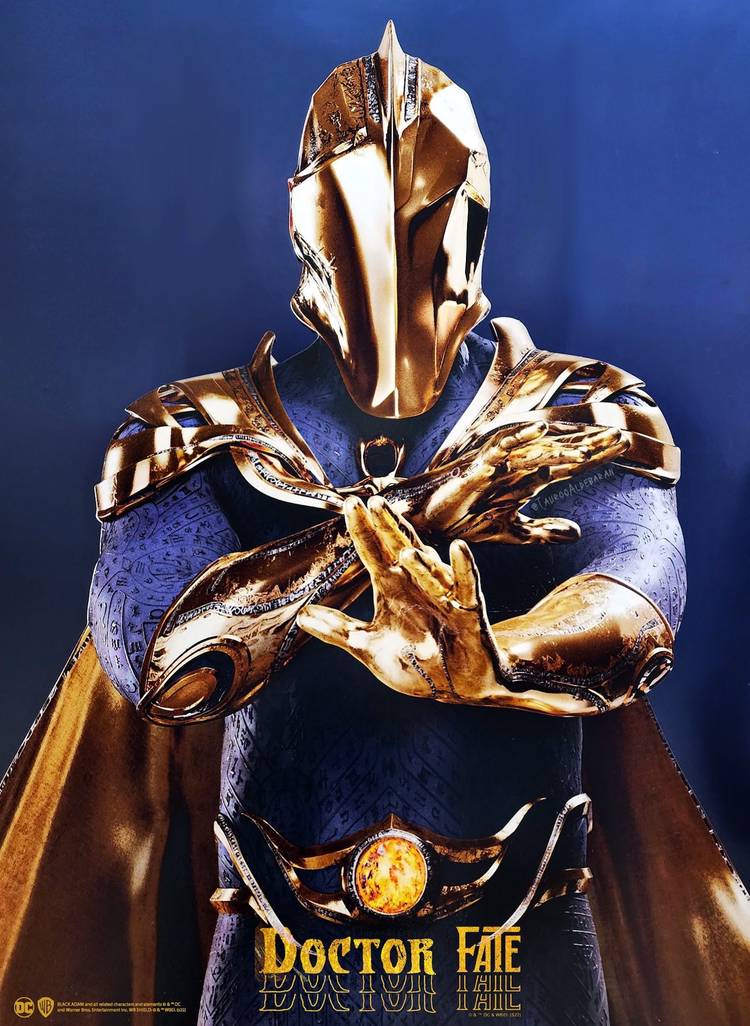 Brosnan has previously explained how he was able to provide input for the character's costume design, prominently displayed on the poster, noting that director Jaume Collet-Serra was great to work with and would send him different ideas. In another recent interview, Collet-Serra addressed why he decided to cast Brosnan as Doctor Fate, stating that he wanted someone to bring a sense of restraint to the character. He said that it would take a "special actor" to play Fate before commenting that Brosnan is "one of the coolest people in the world."
As Johnson continues to share updates surrounding Black Adam, he has also openly praised the work of Brosnan, adding to the excitement of fans. Those acquainted with the character and the source material are likely eager to see how the upcoming film manages to depict Doctor Fate, as well as the Justice Society of America. But as this poster indicates, DC has at least been able to successfully adapt Doctor Fate's comic appearance for the big screen. Audiences looking forward to finding out more about the character and Brosnan's portrayal can be sure to see Black Adam when it hits theaters this fall.