Guardians of the Galaxy 3: How Yondu Influences Star-Lord's New Awesome Mix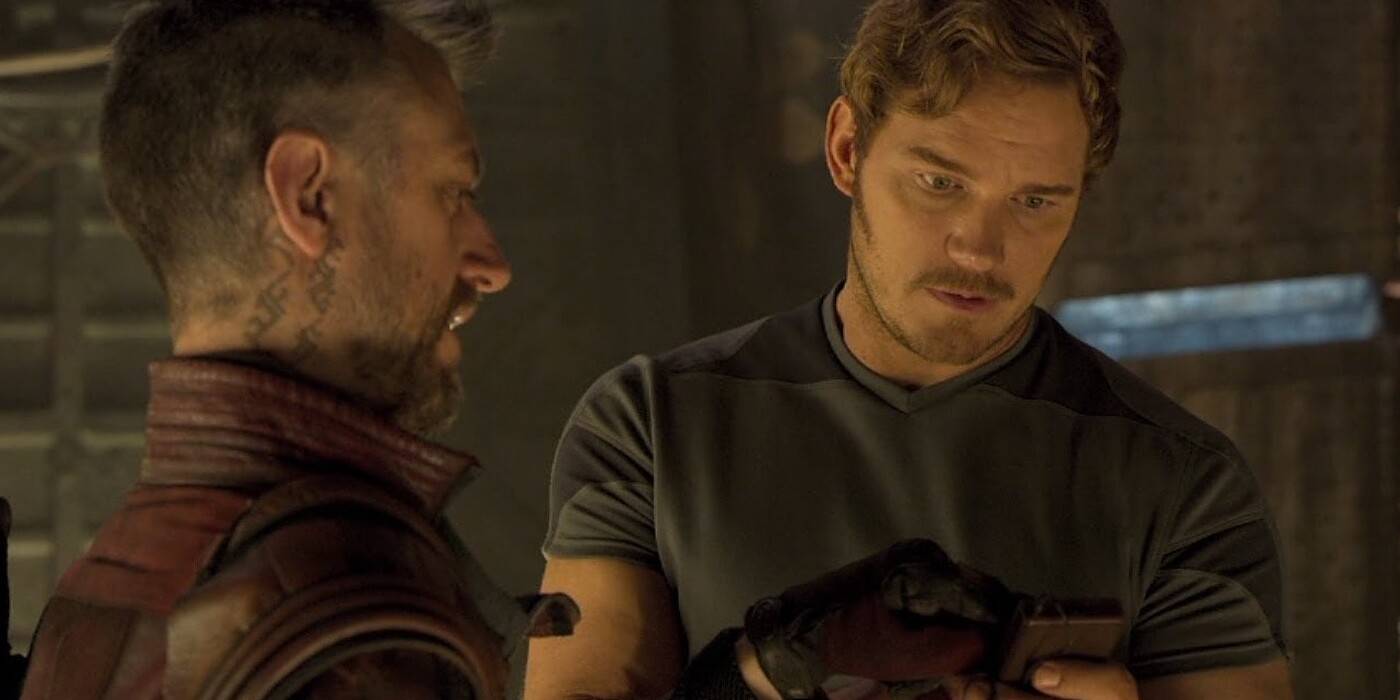 Writer and director James Gunn explains how Yondu influences Star-Lord's new "Awesome Mix" and, in turn, Guardians of the Galaxy Vol. 3's soundtrack. Before being abducted by Yondu Udonta (Michael Rooker) and the Ravagers in Guardians of the Galaxy, Peter Quill a.k.a. Star-Lord was gifted two mix tapes by his mother, Meredith Quill on her deathbed. Both the first film and Guardians of the Galaxy Vol. 2's (a title inspired by Peter's latest Awesome Mix) jukebox-worthy soundtracks correlated with their respective mix of tunes from the '70s Star-Lord played on his Sony Walkman.
Following Yondu's heart-breaking sacrifice at the end of Vol. 2, Kraglin gives Peter a Microsoft Zune MP3 player as a gift from his late surrogate father. In addition to making the audience laugh with its dated technology, the moment further drew parallels between Yondu and Peter and the latter and his mom—who similarly gave him the gift of music at the end of her life. While the first two films' soundtracks represented the mixes complied by Meredith Quill, Guardians of the Galaxy Vol. 3 will come from Yondu's Zune.
Gunn recently took to Twitter to clear up some confusion regarding the Guardians of the Galaxy soundtracks. When asked if a master mix would be released after Vol. 3 hits theaters, Gunn explained that Meredith Quill's Complete Awesome Mix is already available on Spotify. Given that Meredith didn't pick the songs on Peter's Zune, that complete mix will remain separate from Vol. 3's soundtrack. Check out the exchange with fans below:
No, they'll never be on this list because Meredith didn't pick the songs on the Zune, so they're different from the songs in Vol 1 and 2 (although Yondu may or may not have deleted songs he didn't like off of it). https://t.co/TLrGA3BB0e

— James Gunn (@JamesGunn) August 26, 2022
From Redbone's "Come and Get Your Love" and Fleetwood Mac's "The Chain," musical stylings of Meredith Quill infused the first two Guardians of the Galaxy films with feel-good energy, introducing a new generation of fans to '70s tunes. Where Guardians of the Galaxy: Awesome Mix Vol. 1 became the first soundtrack made up of previously released material to top multiple Billboard charts, Guardians of the Galaxy Vol. 2: Awesome Mix Vol. 2 also scored the top spot in Billboard's US Soundtrack Albums upon release. As indicative by Gunn's comments, Vol. 3's mix won't be curated by Star-Lord's mom but (presumably) by whomever Yondu stole the Zune from. Gunn previously debunked a Guardians of the Galaxy Vol. 3 rumor that Peter may have added songs during his time on Earth.
It'll be interesting to hear if Guardians of the Galaxy Vol. 3's soundtrack sticks to the oldies or experiments with the old and new (similar to Gunn's The Suicide Squad). The film is set to be the final installment in Gunn's Marvel Cinematic Universe trilogy, featuring the return of Chris Pratt, Zoe Saldaña, Dave Bautista, Vin Diesel, Bradley Cooper, Karen Gillan, Pom Klementieff, and Sean Gunn. In addition to following up with a displaced Gamora, Vol. 3 will introduce Will Poulter's Adam Warlock and explore Rocket's traumatic backstory. The Guardians of the Galaxy Holiday Special will debut on Disney+ this Christmas season before audiences say goodbye to some beloved characters in Guardians of the Galaxy Vol. 3 on May 5, 2023. While both outings will be music to the ears, one is poised to sound a lot sadder than the other.
Source: James Gunn/Twitter