Brad Pitt Explains His Bizarre Deadpool 2 Cameo
Brad Pitt explains why he agreed to cameo as Vanisher in Deadpool 2. Pitt's latest movie, Bullet Train, sees the A-lister team up with John Wick, Atomic Blonde, Deadpool 2, and Fast & Furious Presents: Hobbs & Shaw director David Leitch. Leitch previously worked as Pitt's stunt double on films in the late 90s and early 00s before the duo reunited for Deadpool 2, in which Pitt (very) briefly appeared as Vanisher.
Two years after Ryan Reynolds made his faithfully irreverent debut as the Merc with a Mouth, he returned for Leitch's Deadpool 2. As Wade Wilson attempted to form a version of the X-Force, the film introduced new characters in Domino (Zazie Beetz), Bedlam (Terry Crews), Shatterstar (Lewis Tan), Zeitgeist (Bill Skarsgård), a hilariously regular human named Peter (Rob Delaney), and Vanisher. The latter character is entirely invisible and isn't seen by the audience until the bulk of the X-Force meet their demise, with Vanisher colliding into power lines and being electrocuted—which reveals the inimitable face of Brad Pitt. Viewers might wonder why one of the biggest stars in the industry would agree to a seconds-long cameo. Turns out, it didn't take much convincing.
During a recent interview with BBC Radio 1's Ali Plumb to promote Bullet Train, Pitt provided a little background on how his Deadpool 2 cameo came to fruition. While calling it the "easiest thing [he's] ever done," the actor explained why he agreed to play Vanisher. Read what he had to say below:
"What was shooting that like? Pretty much, easiest thing I've ever done. Dave's an old friend of mine and he used to be… he was my stunt double starting with Fight Club and all the way up till about 2004. And then he went off and became a really good director, which is rare. Rare."

"Ryan called and like, why not?"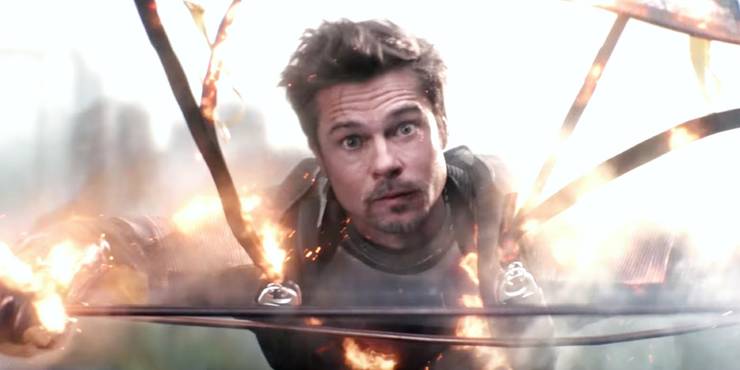 Deadpool 2 screenwriter Paul Wernick has previously explained that he, along with co-writers Rhett Reese and Reynolds, didn't have Vanisher showing his face in the original script. However, as it evolved, the team thought the character's death was the perfect vehicle for a celebrity cameo. Therefore, they decided to approach "the hardest get in Hollywood." Reynolds then reached out to PEOPLE Magazine's "sexiest man alive," 1995, whose children loved the first Deadpool film, and he agreed to cameo in Deadpool 2 for a very low salary and a cup of coffee.
Following Pitt's appearance in Deadpool 2, Reynolds has made a habit of having huge celebrity cameos in his movies, with Free Guy featuring the likes of Hugh Jackman, Channing Tatum, and Chris Evans. Free Guy director Shawn Levy is now set to helm Disney/Marvel Studios' R-rated Deadpool 3, which is being written by Wernick, Reese, and Reynolds. With the multiverse and meta-commentary perpetually in play now, it remains to be seen if/how the franchise's third installment, Deadpool 3, will top Pitt's cameo as Vanisher.