Neil Gaiman Confirms The Sandman Can Be Saved If Canceled by Netflix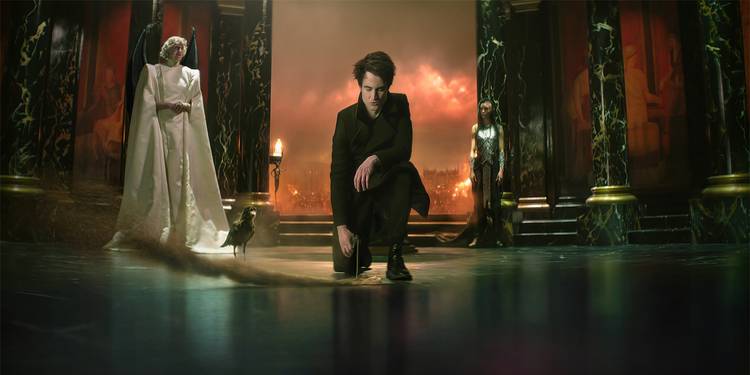 The Sandman creator and executive producer Neil Gaiman confirms that the show can be saved on another streaming service if canceled by Netflix.
Despite The Sandman being the biggest streaming show on the planet and Season 1 being out for over two weeks as of writing, Netflix has yet to greenlight the series for a second season. One fan on Twitter asked Neil Gaiman about the potential for cancellation, tweeting at the writer, "In case Netflix doesn't continue you can still bring [The Sandman] to other platform[s] like [Prime Video], [Apple TV+], Disney+ or HBO Max, can't you?" Gaiman simply responded with a "Yes."
Yes

— Neil Gaiman (@neilhimself) August 21, 2022
Netflix Canceling 'The Sandman' Could Be a Reverse of 'Lucifer'
It wouldn't be the first time that a show based on The Sandman comic series shifted its distribution home. As Lucifer fans will remember, the show used to air on the FOX television network before being canceled in 2018 after Season 3's cliffhanger ending. Netflix actually wound up being the savior for the show later and revived it for a fourth season after the online #SaveLucifer campaign, continuing its story for two more after that until its official denouement in 2021.
Lucifer starred actor Tom Ellis as Lucifer Morningstar, a character that originated in The Sandman comics and went on to have solo comic titles of his own. Ellis does not reprise his role in Netflix's The Sandman, which instead cast actor Gwendoline Christie as the ruler of Hell. If The Sandman is renewed, Christie's Lucifer is poised to play a prominent role in Season 2.
There Are Plans for 'The Sandman' Season 2
Neil Gaiman promised in a previous interview that "Season 2 [is] going to begin with the big Lucifer-Morpheus rematch" teased in the finale of Season 1. Though The Sandman has not been renewed, its creative team is hopeful and has already begun working on the second season's scripts. Executive producer David S. Goyer confirmed that work is underway on Season 2, saying that the writers can now "stretch our wings a bit more" after the "groundwork" laid by Season 1.
So, if Netflix chooses not to step into the Dreaming a second time, The Sandman can shift to another service and the writers will have already begun Season 2's story. Much of the show's first season was pulled directly from the source material, including the bonus episode "Dream of a Thousand Cats/Calliope." Netflix agreeing to make this secret episode is actually what caused the show's creators to choose to work with the company as opposed to others.
Season 1 of The Sandman is available to stream on Netflix now in its entirety.