Spider-Man: Across the Spider-Verse Merch Offers First Look at Spider-Punk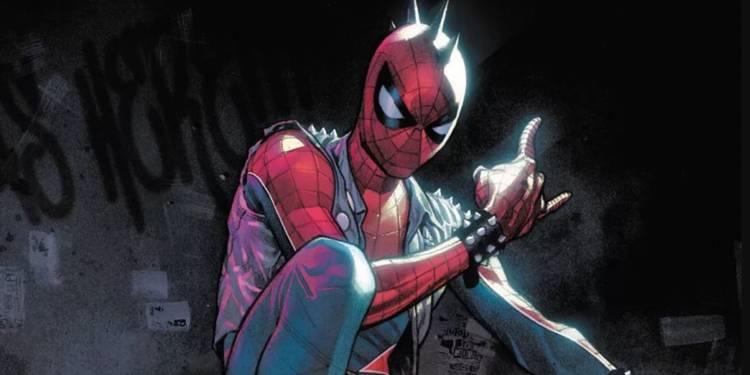 Spider-Man: Across the Spider-Verse will bring plenty of new Spider-People to the big screen, and one Spider heading to cinemas for the first time, Spider-Punk, recently got a full design reveal courtesy of some newly-released merchandise.
Marvel Cinematic Universe fan account Mcu Campus (@McuCampus) recently took to Twitter to show off a new piece of Across the Spider-Verse merchandise: a jigsaw puzzle. Beyond being a fun way to pass the time, this particular puzzle also includes a new image of Spider-Punk, another universe's punk rock Spider-Man, who will appear in the upcoming animated film. In traditional Spider-Punk fashion, he's carrying his electric guitar and comes outfitted with a spiky bracelet and an impressive mask-mohawk.
New images for Spider-Man across the spider verse #acrossthespiderverse #Sony pic.twitter.com/F7I5HqwWeZ

— Mcu Campus (@CampusMcu) August 21, 2022
Spider-Punk isn't the only Spider represented here. The puzzle also features Miles Morales, the protagonist of Across the Spider-Verse's predecessor, Into the Spider-Verse. Another Into the Spider-Verse star, Gwen Stacy, also makes an appearance. There's also a quick look at Miguel O'Hara, who popped up in Into the Spider-Verse's post-credits scene and will play a major role in Across the Spider-Verse. Ben Reilly, the Scarlet Spider, is also here, after appearing on another piece of Across the Spider-Verse merch: a licensed version of the board game Trouble.
Elsewhere on the box, there's also an image of Cyborg Spider-Woman. Unlike the other heroes in the film, Cyborg Spider-Woman is an original character created for Across the Spider-Verse. She has the same cybernetic augmentations as Cyborg Spider-Man, a somewhat obscure comics character, but she appears significantly larger and has a fundamentally altered design. Fans previously got a look at Cyborg Spider-Woman in the form of a Hasbro action figure.
That's already plenty of new Spiders, but producer and co-writer Christopher Miller says there will be even more in the final film. By his count, there will be 240 multiverse-hopping Spider-Men, Women and Children. Still, Miller has reassured fans that the movie will not veer too far from the character-focused narrative of the first film. He says that Across the Spider-Verse's story is still focused on Miles, although Gwen and a few other characters will play important roles in the narrative as well.
Spider-Man: Across the Spider-Verse arrives in theaters on June 2, 2023. Its sequel, Beyond the Spider-Verse, will follow closely behind, hitting theaters on March 29, 2024.