MCU Better Explained No Way Home's Ending Spell & Made Peter's Fate Darker
Spider-Man: No Way Home changed Peter Parker's (Tom Holland) story ompletely, but it also left many questions about Doctor Strange's (Benedict Cumberbatch) final spell and how this affected the timeline, and the Marvel Cinematic Universe better explained this in the movie's extended cut, making Peter's fate darker. The MCU's Phase 4 marks the beginning of the Multiverse Saga, and after giving the audience a taste of the multiverse in the TV series Loki, Marvel explored it deeper in Spider-Man: No Way Home, which was packed with surprises and also some heartbreaking moments.
After Mysterio (Jake Gyllenhaal) revealed his identity to the whole world and framed him for his murder at the end of Spider-Man: Far From Home, Spider-Man: No Way Home saw the web-slinger asking Doctor Strange to cast a spell that would make everyone forget he's Spider-Man. However, the spell was botched and, instead, it opened the gates to the multiverse, allowing villains from past Spider-Man movies to cross over, as well as two variants of Peter/Spider-Man. The only way to fix this was to cast another spell that would make everyone forget Peter Parker, leaving him completely alone by the end of Spider-Man: No Way Home – and if that wasn't sad enough, the extended cut of the movie included a new post-credits scene that makes Peter's fate a lot sadder and darker.
No Way Home's Extended Cut Memory Spell Reveals Make Peter's Fate Sadder
The extended cut of Spider-Man: No Way Home, subtitled The More Fun Stuff Version, was released in theaters in August and September, and it includes approximately 13 minutes of additional and deleted scenes. The theatrical version of No Way Home featured a mid-credits scene with Eddie Brock (Tom Hardy) from Sony's Spider-Man Universe, who unknowingly leaves behind a piece of the Venom symbiote in the MCU before being sent back to his universe, and as a post-credits scene, it included a trailer of Doctor Strange in the Multiverse of Madness. Replacing the trailer in The More Fun Stuff Version is a video from Midtown School about cafeteria safety followed by Betty's Corner With Betty Brant. In it, Betty (Angourie Rice) recaps their high school years and shows videos and photos from Spider-Man: Homecoming and Spider-Man: Far From Home.
However, as Doctor Strange's spell made everyone forget about Peter Parker, those high school memories were also altered. Before the extended cut was released, there were many questions about the extent of Strange's spell and how it affected the timeline, both present and past. The new post-credits scene showed that Peter is now missing from pictures and videos or he's hidden in different ways, as seen in the group photo in Europe, where Peter is standing in the middle, but his face is obscured by a pigeon flying in front of it. The spell, then, altered all evidence of Peter, and even though he was present in all those moments, as seen in the photo in Europe, no one remembers him being there, which makes the whole situation a lot more tragic for Peter, as he has no pictures and videos about his past, including those of him with Aunt May and Uncle Ben.
What No Way Home's Ending Spell Explanation Means For Spider-Man 4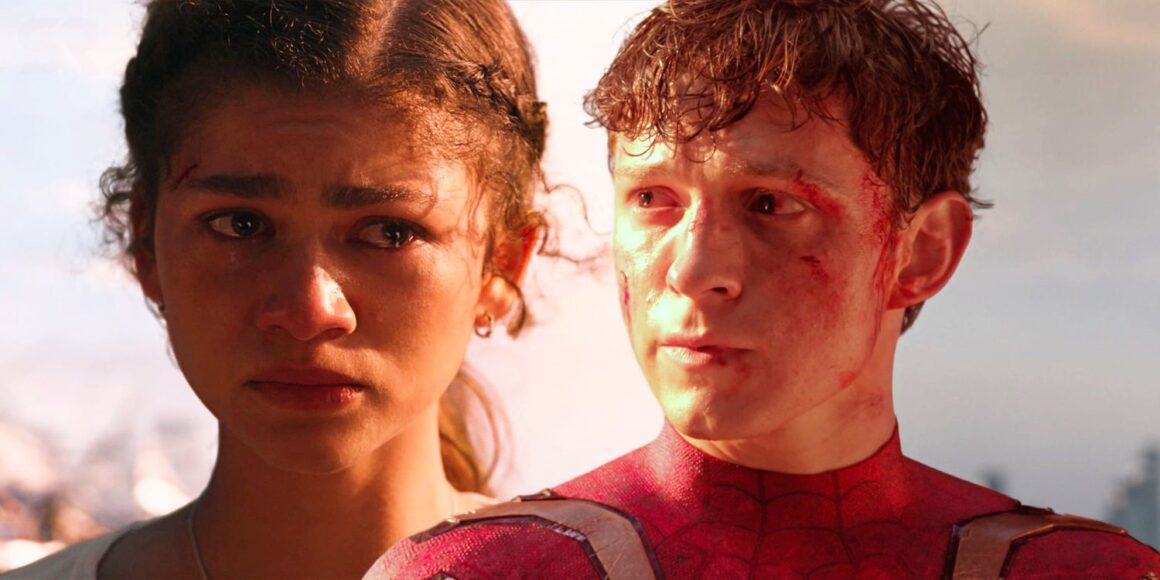 Although the new post-credits scene of Spider-Man: No Way Home makes Peter's story even sadder, it also makes way for a variety of possibilities for Spider-Man 4. With no one in the world remembering him and with Aunt May gone, Peter is all alone and starting a new life from scratch, allowing Marvel to adapt some fan-favorite storylines from the comic books that wouldn't have been possible to see before Strange's spell was cast. However, all this also makes it a lot more difficult for Peter to make people remember him as he has little to no evidence of his past relationships with his friends and colleagues, adding yet another layer of sadness to his story. Spider-Man 4 will see the struggles Peter has been going through now that no one remembers him, but restoring the world's memories just got a lot more difficult.