New 'Spider-Man: Across the Spide-Verse' Character Posters on Display at CinemaCon
With the highly anticipated Spider-Man Across The Spider-Verse — a sequel to the 2018 Oscar winner Spider-Man: Into The Spider-Verse — set to swing into theaters in just a few months on June 2, 2023, fans are excited to see any and all new content for the animated film. Collider's own Steve Weintraub is in attendance at CinemaCon 2023 at Caesars Palace in Las Vegas and had the chance to see a collection of new posters for the upcoming film, a total of six posters in all that feature several of the different Spider-Men and Spider-Women that will appear in the film.
Each poster showcases an individual character from the upcoming film, with just about all of them swinging to action. The characters shown in these posters include Miles Morales, voiced by Shameik Moore, who returns to reprise his role as the lead character from the first film as well as another returning and central character Gwen Stacy or Spider-Gwen, played by Hailee Steinfeld, Miguel O'Hara, aka Spider-Man 2099 voiced by Oscar Isaac, Jessica Drew/Spider-Woman, voiced by Issa Rae, Karan Soni's character Pavitr Prabhakar/Spider-Man India, and Hobie Brown aka Spider-Punk played by Daniel Kaluuya. Each poster showcases the specific Spider person pulling off a super-human feat, except Spider-Punk, who would rather rock out instead of sling webs.
One of the notable absences in this line-up is Peter B. Parker, the older Peter who mentors Miles in the first film and that is set to once again play a key role in the new film once again voiced by Jake Johnson. Additional returning cast members include Brian Tyree Henry as Miles' father Jefferson Davis and Luna Lauren Vélez as Miles' mother Rio Morales. Other cast members that will appear in the film include Jason Schwartzman as the film's main villain, Spot, and Jorma Taccone as the recurring Spider-Man villain Vulture. Additionally, Shea Whigham will appear as Gwen's father George Stacy, and Rachel Dratch will be Miles's school principal. Notably, Nicolas Cage, will not be making a return to reprise his role as fan-favorite character Spider-Noir.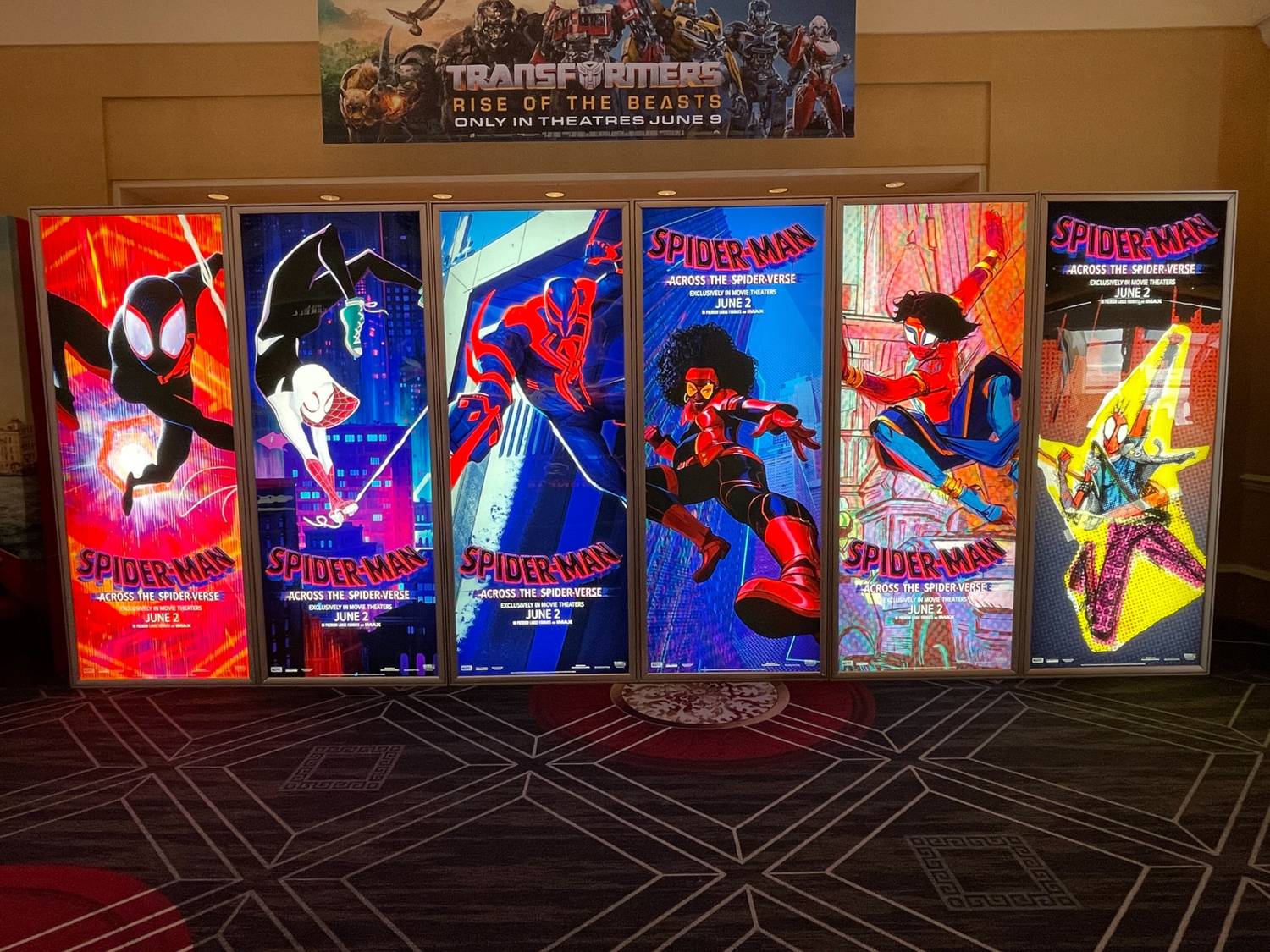 Who Else is Working on Across the Spider-Verse
Across the Spider-Verse is directed by Joaquim Dos Santos, Kemp Powers, and Justin K. Thompson, who will also serve as directors on the film's already-announced sequel, Spider-Man: Beyond the Spider-Verse. Phil Lord, Chris Miller, and David Callaham serve as the writers of the film as well as producers and worked alongside Amy Pascal, Avi Arad, and Christina Steinberg with Alonzo Ruvalcaba co-producing. Into the Spider-Verse director, Peter Ramsey is also returning as an executive producer, alongside Aditya Sood.
Spider-Man: Across the Spider-Verse is set to release on June 2, 2023, with its follow-up Spider-Man: Beyond the Spider-Verse releasing on March 29, 2024. You can check out the new posters from CinemaCon 2023 below: